The Thai Massage wellness benefits ('Nuad Bo Ran' or thai) with ICAÏMA, at Félines, in Haute-Loire
Helps to reinvigorate awareness of your body and brings back its flexibility,
Balances  energies,
Harmonizes body and mind.

The 'lazy people's yoga' helps you to re-discover your bodily sensations.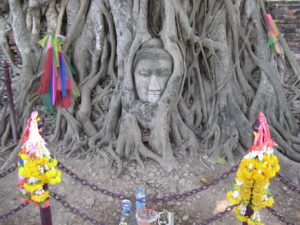 The origins
This massage (called for a long time 'lazy people's yoga') is inspired from traditional thai medicine.
It uses acupressure technic, relaxing the muscles. Then, those are stretched to give them back their flexibility.
The harmonization is done through energy channels work (sen).
This massage practicing is a subtle balance between the practitioner and receiver bodies.
                                                                         This 'touch' art is a 'dry' massage, practiced on a traditional and comfortable thai futon. You are dressed with soft and comfortable clothing.

Suggested duration  : 1h (65€) or 1h30 (90€)
Another budget ? Feel free to contact me, I'll propose a duration according to your budget